SureSmile® Clear Aligners
SureSmile Clear Aligners Dentist in Belpre, OH
Everyone wants a beautiful, straight smile.
But who wants clunky, metal braces?  Now, there's a drastically easier (and better looking) way to get the smile you want.
The SureSmile system is a modern and subtle way to correct minimal to moderate malalignment and create the uniform smile of your dreams.  Using a series of custom-made, clear plastic aligners, SureSmile comfortably and discreetly moves teeth.  Go about your day with confidence when you use clear aligners fabricated from nearly invisible materials!
Why Choose SureSmile?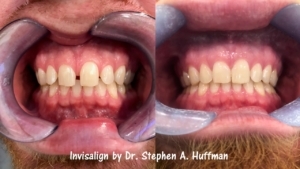 Discreet – The clear aligners are virtually invisible allowing you to straighten your teeth without attracting attention.
Comfortable – SureSmile is rated more comfortable than traditional braces.
Reduced soft tissue injuries – With no metal brackets or wires to get loose and injure or cut your soft tissues, SureSmile reduces pain, inflammation, and inconvenient emergency treatments.
Removable – SureSmile is more conducive to leading an active lifestyle because you can remove your trays as needed.  No restrictions to your diet or sports.
Good oral hygiene – The removable aligners allow you to clean your teeth as normal – no special tools needed as with traditional braces.
No post-treatment bracket lines
Start Your SureSmile
Dr. Huffman is always happy to help you determine if SureSmile is right for you.  If you're a candidate for SureSmile, we will create a precise 3D digital model of your teeth.  From this, a custom treatment plan is developed outlining the exact movements of your teeth and the duration of your SureSmile.
Before starting SureSmile, you will preview a computerized alignment plan, showing your current smile and what it will look like after completing treatment.
Teens and adults alike love SureSmile, the modern standard in orthodontics.  If you are interested in getting a beautiful, straight smile without the hassle of traditional metal braces, schedule a consultation with Dr. Stephen A. Huffman today!
Everyone wants a beautiful, straight smile.