Dental Bridges
Dental Bridges in Belpre, OH
What is a bridge?
A dental bridge is a fixed set of teeth used to replace a missing tooth or missing teeth.  Use of a bridge depends on having strong, healthy teeth on both sides of a gap in the mouth to support the bridge.
Is a bridge right for me?
Before dental implants, "bridging" a gap was the only permanent option.  A dental bridge is not removable and stays in the mouth 100% of the time after placement, making it a popular tooth replacement option.
We know how important it is to permanently maintain the proper chewing ability for overall systemic health.  Therefore, at Belpre Dental Studio, we offer both dental bridges and dental implants to replace missing teeth.  Dr. Huffman will help you discern which option is best for you at your appointment.
Reasons to get a bridge:
Fill space of missing teeth
Maintain facial shape
Prevent remaining teeth from drifting out of position
Restore chewing and speaking ability
Restore your smile
Upgrade from a removable partial denture to a permanent, fixed dental appliance
Are bridges fixed or removable?
Bridges and "partials" are often confused.  In short, a bridge is "fixed" or permanent, and does not need to be removed for cleaning.  Bridges function like natural teeth and stay in the mouth 100% of the time.
A "partial" is the common name for a removable partial denture.  "Partials" replace missing teeth, like bridges, but must be removed after eating and at bedtime for cleaning.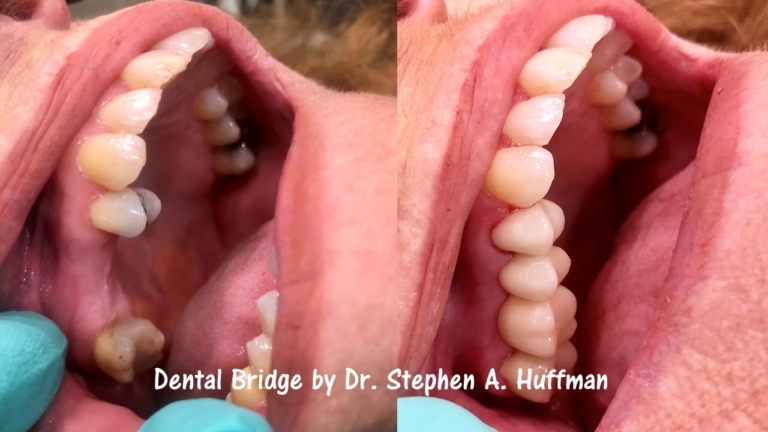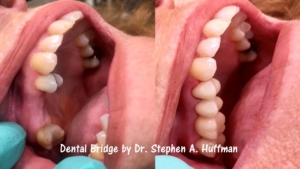 What will a bridge look like?
At Belpre Dental Studio, we do not use unsightly metals, so you will not see a gray band on our bridges.  The technology we use allows us to construct esthetic bridges that match the surrounding teeth and blend in beautifully.  Look for yourself at this bridge by Dr. Huffman.
How long does a dental bridge last?
This depends on several factors, including how well the bridge was made, the fit, and if proper daily hygiene and regular professional cleanings are utilized.
Our dental bridges commonly last for 20+ years.  Some patients have had their bridges for 30 or even 40 years without replacement!  Much of the longevity of the bridge depends on hygiene.  It is essential that you practice daily hygiene and visit us regularly for your dental cleaning appointment.
Dental Bridges – The Process:
We begin with an examination and take X-rays to ensure your remaining teeth are strong enough to support a bridge.  This also allows us to find and address any decay or infection prior to designing and placing the bridge.
Next, we prepare the surrounding "abutment" teeth for the placement of dental crowns.  We utilize intra and extra-oral photographs, an impression, and a shade guide to design a beautiful and natural look for the new teeth.
Dr. Huffman works closely with professional dental lab technicians to custom design your beautiful, new dental bridge.  A temporary bridge will be placed for your comfort.  When your permanent bridge has been perfectly crafted, the temporary bridge is removed and your new bridge is fixed comfortably in place.
We know how important it is to permanently maintain the proper chewing ability for overall systemic health.